Seven thousand Australians and New Zealanders will wake tomorrow morning to a grey dawn in Gallipoli, Turkey. As the last post rings out across the rocky landscape, the thousands of travellers will bow their heads and remember the dead.
Seven thousand people attended the dawn service at Gallipoli this morning.
This year marks 97 years since Australian and New Zealand troops landed at Gallipoli, Turkey, embarking on their first major battle of World War I. Each year, thousands of young Antipodeans make the pilgrimage to pay their respects to the 10,000 ANZAC troops who died thanks to botched orders from their British command. To countries with small populations, this was a huge number, and there was scarcely an Australian or New Zealander who did not know one of the casualties.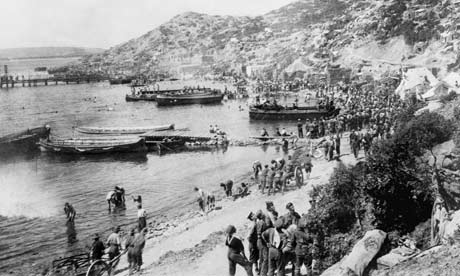 British and Anzac troops landing at Gallipoli were faced with steep cliffs and no cover.
In 1915 the Anzac troops were part of an Allied expedition that set out to capture the Gallipoli Peninsula, with the aim of opening the way to the Black Sea. The objective: to capture Constantinople – modern-day Istanbul. Due to botched intelligence, the troops landed at a rocky, unforgiving part of the peninsula, with forbidding and treacherous cliffs.
The men fought valiantly but were wiped out in their thousands by the Ottoman forces.
Today the bond between Turkey and the Antipodes is a strong one, as each country honours the others' dead. At memorials in Gallipoli, Australia and New Zealand, the words of Kemal Ataturk, sent to the mothers who lost their sons in the campaign, are still as poignant today as they were in 1934 when they were first written:
"Those heroes that shed their blood and lost their lives… you are now lying in the soil of a friendly country. Therefore rest in peace. There is no difference between the Johnnies and the Mehmets where they lie side by side here in this country of ours… You the mothers who sent their sons from far away countries, wipe away your tears. Your sons are now lying in our bosom and are in peace. Having lost their lives on this land they have become our sons as well."
The battle of Gallipoli is indelibly etched in the psyche of New Zealanders and Australians. The anniversary day is one of the most important national occasions of Australia and New Zealand and is marked in both countries with dawn parades and marches.